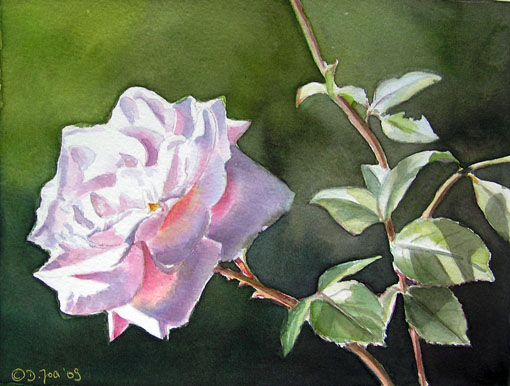 White Rose New Dawn
watercolor on coldpressed paper

I didn't think anyone would ever understand me.
But it seems I might have been wrong.
I believed in signs and still do strongly.
I have been waiting for someone to sweetly knock me off.

I have been taken away on this new day.
The best I have had, the best I remember.
I have let it all in the open in cryptic lines.
So she would open them and smile as I think of her.

And as the sun dawns on this bright, beautiful day.
There is nothing, nobody else that inhabits my mind.
I only wait to see her again, in a short while.
While in my peaceful sleep, it'll be her that I'll find.

"Surreal" were words that were uttered at this dawn.
And I find them true; the magic captured shall remain ingrained.
Things about her are saved with me forever, whatever may happen.
That little list is now mine to delve into, get lost in, maybe keep for myself, someday.