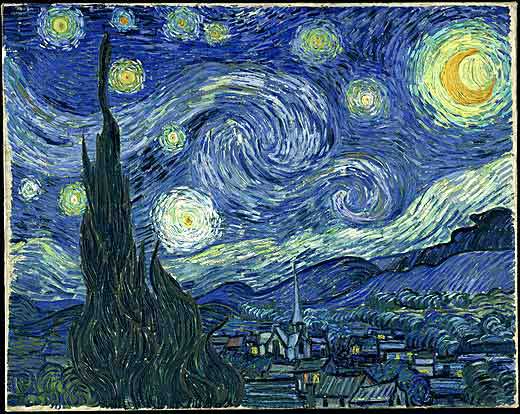 "Starry Night" by Vincent Van Gogh (1889)
He always goes to bed with a grim thought in his head. Whenever he has had a good day to brood over, he lets it pass. He lets it wash over him like any other wave in the ever moving ocean. That happiness is only good for the moment, the minuscule space of time that captures it. The rest is something inexplicably dark always arrested within him.
He walks in strange lands. He never stays somewhere closer to home. He, the eternal wanderer, travels in search of hope, only to find the inescapable truth of the harsh reality that he has come to know of life. Knights and dragons and wizards walk with him but never beside him. He sees them, but is never one of them. He yearns to leap into the unknown but is always dragged behind by some brooding thought. Sometimes he loses control completely and his scars speak those stories. The fantastic creatures and their very lives lie deep within his befuddled mind. But those images are always smoky, never too solid to remain.
He has everything one might hope for. He has respect, he has love and people care. But he has lost too much to keep a strong focus anymore. He lacks the strength to even run into the arms of the ineffable moments of pleasure that sometimes beckon him. Composure denies his paranoid soul, he lacks the sense of endearment for himself that he gives to others. He cares, he fights, he loves, hard and strong.
But confused and dejected, he hates himself when he loves others and fights himself as he saves all else.
He goes to bed every night with a vile image in his eyes, a dark song in his ears and the thought of death in his mind.