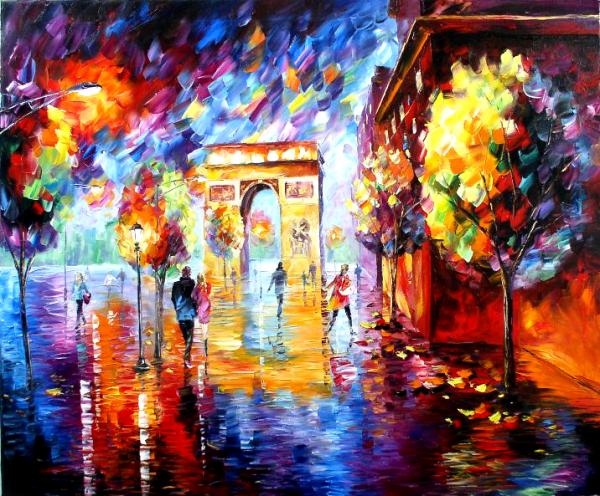 Romantic Paris Print Painting by Daniel Wall

As the first drop touches my brow.
Taking me back into the wilderness of romance.
The fiery passion of storms.
Desire, that of the wet glistening skin.
The wet earth.
The soft, dreamy fragrance in the air.
Filling up my nostrils.
Sinking into my mind.
Taking over me completely.
I feel as if in a trance.
As the battered, dying trees transform.
The bushes suddenly look greener.
New found joy after a long burgeoning wait.
Let me be lost.
Let the water wash over me in cascades.
And let me tumble and roll in glorious love.
Let it never fade away, but just remain.
The resounding power.
As it rolls the heavens asunder.
The flashes of fire up high.
Brighter than the sharpest flame.
They are merely signs of victory.
Signs of a new passion to be ignited.
A reason to carry on and believe in love.
A reason to gather courage and to hope.
And so I remain, sitting idly in the rain.
Let it never fade away, but just remain.