This post has been published by me as a part of the Blog-a-Ton 17; the seventeenth edition of the online marathon of Bloggers; where we decide and we write. To be part of the next edition, visit and start following Blog-a-Ton.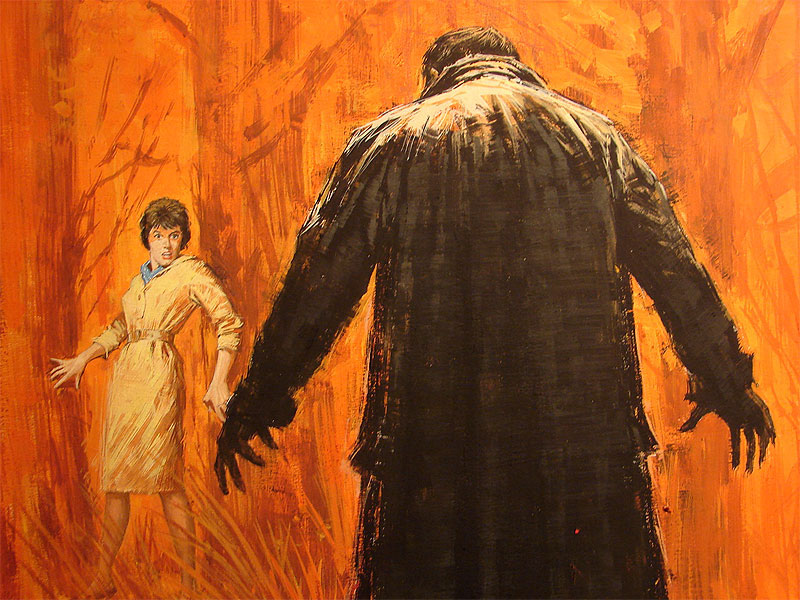 Painting by Rudy Nappi; c. 1963
I entered the apartment, intoxicated. The smell of liquor was strong on my breath. I'd come from a party. I'd been there only a half hour previously. As I switched the lights on in my own apartment, I had a sense of foreboding but as the lights came on and I saw the neat artsy interiors, I smiled smugly to myself and drew myself away from my thoughts.
I'd drunk too much at the party I was at a while ago. A friend of mine had just gotten a job after a long wait. It was something to celebrate. A few shots of tequila and some whisky later, I was feeling pretty good and I had enjoyed myself thoroughly. I called my wife. She'd been staying with a friend of hers for a few days. I hoped they'd been having a good time. She'd seemed a tad bit rude, though. I wonder why.
I entered the living room with the Persian rug that I loved so much. There wasn't a stain on it. I wondered why. Why did this thought come to my head? I don't know. I'm drunk. Nothing can be explained when you're drunk. I called dear Larry to thank him for the best party that I've had in a long time. Pretty damn good it was, too. Maybe I was tipsy but I think I did hear him answer saying I'm welcome for more. Damn right I'm going to ask for more; I'm his best friend, after all!
I entered my bedroom. Alice, my wife, was probably still at her friend's place. What was her name again? She lived in the same building. So who cares what her name is anyway. I just had this urge go to the restroom before I hit sack. Alice does get mad if I drop onto the bed dead drunk. So I did.
The bathroom was a sight. Weird. There was a lot of water in the bathtub, bubbles emanating from it. It was still warm. It was a little red. A reddish hue, maybe? I can't be sure. It's been a while. I do remember Alice lying in it, her head bobbing up and down beneath the water. Her body was naked with deep gashes all over it. Something was written on the mirror and something of the same colour splashed all over the white tiled marble floor. I was frightened. I gathered some of my wits and stepped back. Alice couldn't be dead. I'd seen her not a moment ago, hadn't I?
The hallway in my apartment turned dark. Who did this? I know I was drunk but I couldn't be imagining things already. I couldn't have been hallucinating. I called Larry again. He didn't answer. Was he dead too? Now I was panicking. I rushed to where the phone should be, oblivious in the dark, floundering around. I stumbled and fell on something hard, entangled in something long. It was the phone, with all its wires and paraphernalia. It was disconnected, broken rather.
There was a loud thump at the door. My heart stopped. Was I hallucinating? No, this couldn't be. My wife's dead in a bathtub and now I'm about to be cut open as well. No. WHAM. Something hit me on the head sharply on the back. As I turned back, all I saw was a cold face staring back at me in the semi-darkness. I blacked out.
I woke up the morning wearing a straitjacket, in a padded cell supposedly with a printed letter on my body.
From what I heard from the orderlies, it went like this -
Dear Robert,

I love Alice. You have known that and have ignored it for far too long. You're an alcoholic and abuse her way too much. I can't stand it. I can't tolerate watching and listening as you beat her and rape her every night. I'm always there. I can't help not being there. I live down the hall from you and I'm your best friend, always with you, after all.

You should know that for the past year, more or less, Alice and I have shared some intimate moments together and I am led to believe that she loves me too and therefore, I have asked you on many occasions to reconsider your marriage with her. You're not good for her. You never listened to your best mate. It had gone far too long, far too much for me to take. I had to do something. I tried standing you up. You killed her. You killed your own wife, just because you saw us kiss once? How could you do that? You slashed at her with a kitchen knife; gutted her down in your bathroom. You murderous bastard.

But I understand. It's the alcohol. So I have a remedy. You killed her in the evening. Tonight, we had a party. My party. My new job. You were dead drunk again when you returned home. I told you she'd be with a friend. You believed me. I waited for you. You came. I had you at my mercy but I decided to spare you. I hope you'll be at peace now, in solitude.


Your friend,
Larry
As I was read this letter, nothing coursed through me. Not the anger that should bubble like hot lava through my veins. Not the cold icy projections that should cut through spines. Nothing. Makes me think in my most peaceful moments sometimes – what really happened that night?
As the orderly took the letter away after reading it to the patient for the umpteenth time, he looked at the back of the letter, at the little postscript that the patient apparently did not know existed. It said -
In Memory of Alice Roberts, deceased wife of Larry Roberts. People deserve what they get for what they do.

The fellow Blog-a-Tonics who took part in this Blog-a-Ton and links to their respective posts can be checked here. To be part of the next edition, visit and start following Blog-a-Ton.